Melbourne is the capital of Victoria and Australia's second largest city. Its growing population of 4.2 million rivals Sydney's 4.6 million.
The city is home to 8 universities that teach close to 300,000 students, with more than a third from abroad. This makes Melbourne comfortably Australia's biggest university city and one of the biggest study abroad destinations globally.

Melbourne is known for its varied and dynamic culture. It hosts numerous cultural events and supports an eclectic mix of restaurants and bars. The city is also Australia's unofficial sporting capital. It is rated as Australia's best and most livable city for students.
Geography and climate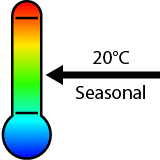 Melbourne is built around Port Phillip Bay on the southern edge of mainland Australia. The city fans out across valleys and low-lying hills. Running through greater Melbourne is the Yarra River and several smaller rivers and creeks.
Melbourne has a seasonal climate and often seems to produce all 4 seasons in a day. The city is cool compared to most Australian cities due to its southerly latitude and exposure to the southern ocean. But it is also affected at times by hot, dry air coming from inland Australia.
Universities
Melbourne is home to 8 universities but contains a much larger number of individual campuses. These include St Patrick's campus of the Sydney-based Australian Catholic University. Most university locations are in or close to the city centre.
The University of Melbourne is arguably the country's most prestigious university. It is ranked as one of the best in the country based on international reputation and good outcomes with respect to graduate careers.
Monash University is also an internationally recognised university and has 5 campuses spread Melbourne. It is Australia's largest university, with almost 60,000 students, and has the second most international students (20,000+).
Deakin University has a large suburban campus in Melbourne as well as campuses in other parts of Victoria. It is more teaching focused than most universities and graduates give it high course ratings.
La Trobe University has its main campus in Bundoora, a suburb about 16 km NE of the city centre. The university also has several other campuses across Victoria.
Swinburne University of Technology has 4 campuses in Melbourne, with the main campus in Hawthorn 8km from the CBD. The university is as much a vocational training institution as a university and offers many specialised non-university courses.
RMIT University is an applied teaching and research institute that focuses on design, technology, health, globalisation and sustainability. It is based in the city centre, occupying buildings across several blocks, and also has suburban campuses. The university has the highest number of international students in Australia (26,000).
Victoria University offers degree and vocational study courses. It operates across Melbourne's western suburbs and city centre. The university was founded as the Footscray Technical School in 1916 and gained university status in 1990.
The University of Divinity is a small institution that offers courses in philosophy and religious studies. It became a university in 2012 and was formed from colleges instructing in various denominations of Christianity.
Melbourne living
Melbourne maintains a strong sense of community for a city of more than 4 million people.
The city's cohesion comes in part from a shared appreciation of sports. Melburnians regularly come together in large numbers for major sporting events, including AFL matches, cricket, soccer and the rugby codes, Australian Open tennis and Formula One racing.
The arts, fashion, and cultural events also form part of the fabric of the city. Melbourne has a permissive, free quality in which artistic endeavours flourish. Self-expression appears in street art, alternative fashion, live music, and festivals – such as the Melbourne Fringe Festival, and festivals of Arts, Film and Comedy.
It is a culture that fits neatly with preferences of the student community. You can find plenty of cheap, non-manufactured entertainment. There are niche bars with free live music, cheap eateries with authentic Asian or fusion cuisine, and art-filled public spaces.
While culture is one of the reasons why so many students live in Melbourne, the city also suits student in practical terms. It has an integrated public transport system powered by trains, trams, buses and taxis. Travelling from the middle and inner parts of the city is generally easy and cheap.
There is also variety in city accommodation, including a mixture and high-density and low-density blocks near to the city centre. Students are normally able to set up affordable living arrangements within a short commute of classes.