Perth is the major metropolis of the vast, arid state of Western Australia. It is also Australia's fastest growing capital city.
Perth is a major study abroad destination, with around 35,000 international students attending 4 universities.

Although just over 2 million people live in Perth, the city has a spacious, open quality. The expansive layout is complemented by parklands and ready access to the Swan River and beaches. The city is also sunny and warm, making it an inviting place for outdoor activities.
Geography and climate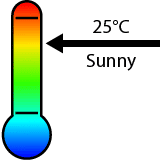 Perth is located on a coastal plain running along the lower part of Australia's west coast. The city is geographically isolated, with vast expanses of ocean to the west and desert to the east.
Perth is set on the Swan River but has suburbs stretching along 125 km of coastline. Within the greater Perth area is Fremantle, a small city (around 30,000 residents) that is the location for Western Australia's largest port.
The city has a Mediterranean-style climate. Summers are hot and dry while winters are wet and mild. Perth generally receives good amounts of rainfall over the year, but accumulated in short, heavy downpours. Hot weather in the summer is made bearable by low humidity and a fairly reliable sea breeze in the afternoon.
Universities
Perth has four universities with campus locations spread across inner and outer suburbs. There is also a small private university, Notre Dame, based in Fremantle.
The University of Western Australia is Perth's most prestigious university and is ranked as one of Australia's best. It is a short drive from the city centre, on the ocean side of King's Park.
Edith Cowan University has its main campus at Joondalup in Perth's northern outskirts. It also has an inner city campus and a regional campus in Bunbury. The university is teaching focused and achieves high course ratings.
Murdoch University is based at a large rural property in Perth's southern suburbs. The university accepts large numbers of international students at the undergraduate level. Close to half of the students are studying abroad in Australia.
Curtin University is easily Perth's largest, with around 40,000 students. More than a third of them are from overseas. The university has a strong reputation for research internationally and has facilities in Sydney and Asia. Its main campus is in Bentley, 8 km south-east of the CBD.
Perth living
Perth feels more suburban than big-city because it is spread out. It has primarily grown by expanding outwards over much of its history. This is changing however. Rising house prices are forcing increased high-density urban development, accompanied by investment in public transport infrastructure.
The open layout, combined with a favourable climate, makes Perth ideally suited to an outdoor lifestyle. There are long paths for walking and cycling, and numerous sports facilities. There is also plenty of parkland, including King's Park – one of the world's largest inner city parks and the setting for Perth's botanical gardens.
Student life in Perth also has a suburban character because all the universities are based some distance from the city centre. Students generally choose to live within walking or cycling distance of classes. Travelling via public transport is also an option, with regular bus services on weekdays.
The universities are generally good at supporting the social side of student life, which tends to be more campus than city orientated. There are plenty of sports clubs to join through the universities and the student unions put on many events.
Perth also has several hotspots for shopping, dining and going out. Northbridge, just north of the CBD, is the main district for pubs, clubs and live music. Inner city suburbs such as Mt Lawley and Highgate are also busy on weekends. Fremantle is noted for its cafes and restaurants and is a popular short-drive destination.