Brisbane Snapshot
State: Queensland
Population: 2.2 million
Avg max temp: 26.4°C
Street vibe: Relaxed
Brisbane is the capital of Queensland and Australia's third largest city after Sydney and Melbourne.
At least 100,000 university students live in Brisbane. They study with many different institutions, including three large universities based in the city.

Brisbane's sub-tropical climate is a major draw for interstate and international students. Winters are warm enough to keep sun worshippers happy the whole year round. It is rated 2nd on the list of Australia's most livable major cities for students.
Geography and climate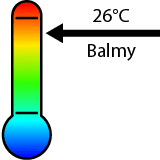 Brisbane is in south-east Queensland around 500 km below the Tropic of Capricorn. It bisects a coastal stretch of some 170 km from the Sunshine Coast down to the Gold Coast.
The city sprawls across the meandering Brisbane River. The river's floodplains (which are subject to heavy flooding from time to time) are confined by hills and much of the city is built on elevated ground.
The climate is sub-tropical but humid and can feel distinctly tropical in the warm summer months from December to February. Brisbane is the most northerly of Australia's large university cities, sitting higher than Perth (on the other side of the continent).
Universities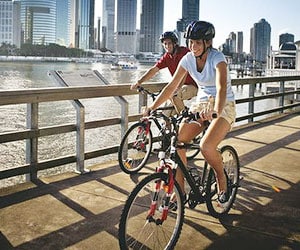 Brisbane is home to 3 large universities with mainly central campus locations. Several regional universities also have a presence in the city, including Australian Catholic Uni, CQU, James Cook, Southern Queensland and Sunshine Coast.
The University of Queensland (UQ) is one of Australia's most prestigious universities. Its main campus is bordered by the Brisbane River on 3 sides and is a short drive from the city centre.
The Queensland University of Technology (QUT) is a research-focused institution with two campuses in Brisbane. They include UQ's former city campus at South Bank. QUT has the largest enrolment of local undergraduate students (close to 30,000).
Griffith University is a regional university with 4 of its 5 campuses in and near to Brisbane. It accepts more study abroad undergraduates (over 6,000) than either UQ or QUT.
Brisbane living
Students of Brisbane's universities generally live not far from inner suburbs, where most teaching facilities are located. The biggest concentration of students is in and around the suburb of St Lucia, which contains the main campus of the University of Queensland.
Transport
There are good public transport links throughout inner Brisbane, which is relatively compact and pedestrian-friendly. Getting around by bike is a popular option as well. Although Brisbane is hilly, there are extensive cycle paths along the flat areas either side of the Brisbane River.
Brisbane residents mainly travel by car, including to visit the many attractions that are within a few hours' drive of the city. These include Australia Zoo and numerous beaches.
Brisbane lacks a natural beach, with the Brisbane River passing through mangroves to enter the ocean. However, an inner-city beach has been created at South Bank.
Brisbane districts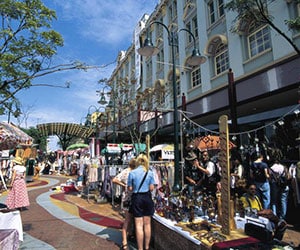 Brisbane has several notable metropolitan hubs, as you would expect from a city of 2.2 million people.
The students districts in the West End and St Lucia are made up of leafy suburban streets interspersed with pubs and cafes that cater to the student market.
While the CBD is the best place for shopping, Fortitude Valley in the Inner North is the entertainment and dining centre. It is the location for Brisbane's Chinatown.
The Inner South is noted for art galleries and other cultural attractions, including the artificial beach and riverside boardwalks.