Wollongong Snapshot
State: New South Wales
Population: 288,000
Avg max temp: 21.8°C
Street vibe: Surfer
Wollongong is a seaside city located 80 km south of Sydney. It is on a long, narrow coastal strip containing numerous beaches.
The city is home to the University of Wollongong. Just a short drive inland from the city centre, in a bushland setting, is the university's main campus.

Wollongong provides an excellent environment for study and living. The natural surroundings, temperate climate and small population make it an easy place to live. At the same time, it is well connected to a major city and has high educational standards. It is rated as Australia's most livable small city and best small city for students.
Geography and climate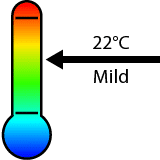 Wollongong is in New South Wales on Australia's east coast. Sydney is a scenic 90-minute journey north by train.
Wollongong is bordered by a steep, sandstone rise to the west and by the Tasman Sea to the east. The city's development is contained by Royal National Park to the north and, to the south, spreads around Lake Illawarra.
Wollongong has a series of sandy benches that are separated by occasional rocky outcrops. Several small coastal communities are within Wollongong's southern borders.
The region has a mild, oceanic climate that rarely produces unpleasant weather. The temperature never drops below freezing. Summer temperatures are kept down by a sea breeze.
University of Wollongong
The University of Wollongong is one of Australia's leading universities. It has an international research reputation and is rated highly by both local and international students. UOW graduates are successful at finding work or going on to further study.
The university has facilities in Sydney, regional New South Wales and Dubai. However, most students attend the main Wollongong campus. A high proportion of the student body are studying abroad in Australia, especially at the postgraduate level.
Wollongong living
City life in Wollongong is fairly relaxed in the day time but tends to get busy at night – at least for a city with a population under 300,000 people. Wollongong's restaurants, cafes and pubs and concentrated in the CBD.
The city's narrowness – it is never more than about 6 km wide – seems to push the night life into a central area. While most suburbs have a pub, the city centre is normally the place to be. Students generally live close to the CBD, which is 5 km SE of the main campus.
The city has a great range of affordable eating options due to its migrant history, with strong influences from the Mediterranean, Eastern Europe and Asia. The pubs also have discount prices for students, with Wednesday labelled as "student night". VisitNSW.com has more information about things to do in Wollongong.
Having a car is very handy for exploring Wollongong and adjacent regions. The city is part of a long coastal drive containing many points of interest, including a string of beaches and small towns.
Within the city, students who don't walk or cycle to classes tend to use public transport. There is a free city loop bus operating between the university and city centre. Driving is not a popular commuting option due to a lack of on-campus parking.
The university's main campus blends with the natural environment to Wollongong's west. Campus grounds back on to a nature reserve and hold native trees as well as streams and duck ponds. It is a relaxed, quintessentially Australian setting.