Sydney Snapshot
State: New South Wales
Population: 4.6 million
Avg max temp: 21.7°C
Street vibe: Fast paced
Sydney is the capital of New South Wales and Australia's largest city. It has recently been overtaken by Melbourne as the major destination for immigrants to Australia.

Five large universities are based in Sydney, each with well over 30,000 students who study on campus.
Sydney's expansion over recent years has mainly been inland to the west. It is one of the most expensive cities to live in the world but the median salary is also among the highest.
Geography and climate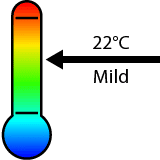 Sydney is on the central coast of New South Wales, bounded by the Blue Mountains to the west and Tasman Sea to the east.
The city is built around bays, coves, rivers and harbours. The watery topography is the result of ancient sea-level rises that flooded river valleys.
Sydney is built on a plain on the southern side of the harbour and on a hilly plateau on the northern side. North Sydney's development accelerated after it was joined to the south by the Sydney Harbour Bridge in 1932. Since then, the city has spread deep inland to the west.
Sydney's climate is essentially temperate, though the inland parts are prone to greater extremes than coastal areas. Overnight temperatures are rarely below 5°C, even in the winter months. Summer days are warm and occasionally hot. Rainfall is spread across the year and boosted by occasional heavy downpours.
Universities
Sydney's universities are recognised internationally for academic research. In terms of world rankings, 4 (out of 5) of Sydney's universities are in Australia's top 10.
University campus locations are mostly in inner city areas but there also large campuses in western and northern suburbs. The Australian Catholic University, which is spread across states and territories, also has a strong Sydney presence. Other universities with Sydney facilities include Notre Dame, Wollongong and Curtin.
The University of New South Wales is a research-focused institution that performs well in terms of graduate salaries and also receives above-average course ratings. Its main campus is several km south of the city centre in Kensington, a short drive from Coogee Beach.
The University of Sydney often ranks among the world's top 50 universities. It does less well in Australian university rankings that take account of course ratings by graduates. The university's main campus is on the outskirts of the city centre.
Western Sydney University has several campuses spread across Greater Western Sydney. The university mainly instructs local students, with almost 9 out of 10 students from Australia. It receives the highest course satisfaction ratings among Sydney's universities.
The University of Technology, Sydney (UTS) is a metropolitan university that was formed by the merging of several inner-city institutions. UTS has large programs in business studies, engineering, arts and design.
Macquarie University is Sydney's most international university, with almost a third of students from abroad and a large student exchange program. The main campus is in Sydney's northern inland, around 16 km north-west of the city centre.
Australian Catholic University was formed in 1991 from the merger of 4 institutions across 4 states territories. They included the Catholic College of Education Sydney, which was located across 2 Sydney sites that are now campuses of the university.
Sydney life
How you live in Sydney is an individual choice – it is a big place with lots of diversity. There are, however, certain things that every Sydneysider experiences (for good or bad).
Pros of living in Sydney
On the positive side, Sydney's weather is very temperate. You don't really have to spend much on heating or air-conditioning. There are also plenty of beaches, including surf beaches, for taking advantage of warm weather.
Sydney also offers plenty of entertainment, especially if you're prepared to travel and pay for it. The city attracts virtually every major musical, theatre or other entertainment act that comes to Australia.
Culturally, Sydney has a rich blend of ethnicities due a strong and steady influx of immigrants over many years. This really shows in Sydney's restaurant scene, which is diverse, innovative and competitive.
Cons of living in Sydney
Sydney's disadvantages mainly relate to crowding. The city's beauty and global status are not exactly secrets. While immigrants have been coming to Sydney in large numbers, in recent years the local population has tended to shift to other Australian cities.
Property prices in Sydney are high, particularly if you want to live in inner city area. Despite many tollways, the roads are congested. Public transport can also be unreliable.
Assessment
For university students, Sydney is an expensive place to live but there is also significant compensation. University campuses are mostly in inner city areas, giving access to plenty of culture and entertainment without having to travel far. You also have access to beaches.
Sydney has a big and dynamic economy, meaning students can normally stay in the city after graduating. For many careers, opportunities in Sydney are greater than anywhere else in Australia.