Australia has some of the top cities in the world for university study and for students to live in. They offer the combination of excellent universities and high living standards.
Australian cities and towns attract close to 300,000 international students each year. Nearly one in three university students are from abroad, including from China, India, Korea, Vietnam and Malaysia. They add a global flavour to university life in Australia.
It's interesting to compare Australian cities as places for university study. While many similarities exist, each city has its own qualities. For students coming to study abroad, knowing about the different cities can be useful. It helps to choose a university city and make the most of what the place has to offer.
Ranking formula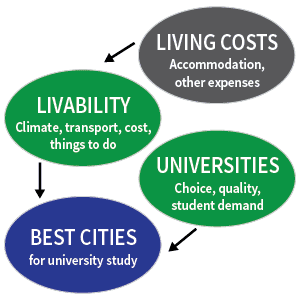 Australia's best cities to study and live in are ranked based on three things.
1. Livability
The most livable cities for students in Australia include Melbourne, Brisbane and Wollongong. Livability depends on factors such as living costs, climate, culture, transport and layout.
2. Cost of living
The cost of living is an important part of livability. Differences in living costs between cities are mainly due to variations in housing prices. Our cost of living index reveals the cheapest and most expensive places to live. It also shows how city choice affects student budgets.
3. University choice
The best university cities have quality universities and give students choices about institutions and courses. They also tend to attract international students. Melbourne and Perth are top Australian cities for course choices and drawing students from abroad.
We use the following statistical sources: the Australian Government's higher education data and housing prices, the Australian Graduate Survey, and Uni Reviews.
---
Large student cities (>1m people)
---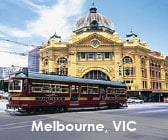 Melbourne is rated as Australia's top city for students.
It is comfortably Australia's biggest student city. There are an estimated 270,000 university students in Melbourne. More than a third (91,000) are international students.
The city offers students a wide range of education choices, with 8 universities based in the city.
Melbourne is also Australia's most livable city because of the cultural entertainment on offer plus good public transport.
---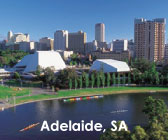 Adelaide in South Australia is another attractive city for students to live in. Adelaide has solid numbers of international students, with 27 per cent of students from abroad. Consistent with its size, the city has 4 universities.
University quality in Adelaide is the highest nationally, although not by much. We found that all major cities have both high and low ranking universities.
Adelaide is a relatively cheap place to live due to low accommodation costs.
---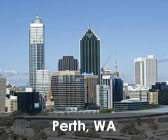 Perth is a fantastic study destination, though a little pricey.
Perth's student numbers are similar to Melbourne but on a smaller scale. International students also represent a third of all university students.
Perth offers plenty of educational choice, with 4 universities in a city that is less than half Melbourne's size. The average quality of universities is slightly better than in Melbourne but fractionally lower than in Adelaide.
Living costs in Perth are relatively high. It is the second most expensive city after Sydney. The high living costs do, however, reflect a strong local economy and job market.
---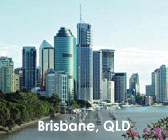 Brisbane also features on the best big-city list.
The proportion of study abroad students in Brisbane is 22 per cent, about 6 points below the national average.
The city offers students reasonable choice. Although only 3 universities are based in Brisbane, several others have teaching facilities in the city. University quality in Brisbane is slightly above average.
Brisbane is the second cheapest major city to live in after Adelaide.
---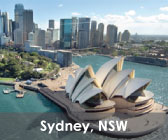 Sydney is home to almost 230,000 university students, of which just under 50,000 (22%) are from overseas. Around 5% of all residents are university students (compared to 6% or more in the other major cities).
Five universities are based in the city, with an average quality similar to other major cities.
A drawback to Sydney is the high cost of renting. It is the most expensive major city in Australia.
---
Small student cities (<1m people)
---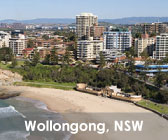 Wollongong is Australia's top small city for students.
Wollongong is tough to beat. The city of less than 300,000 people is home to a reasonably large university that is one of Australia's best.
The University of Wollongong has 27,000 students, with more than 10,000 from abroad. The university is ranked 2nd by University Reviews Australia – based on university reputation, course ratings and graduate salaries.
Wollongong is 80km south of Sydney and its housing prices are about average for Australian cities.
---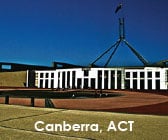 Canberra is Australia's capital and another quality small-city for student living.
Canberra has 2 universities, including the top-ranked Australian National University. The city has 35,000 students, 9,000 of whom are international students.
While Canberra provides a great environment for university study, it can also be an expensive place to live.
---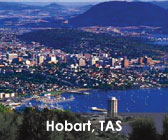 Hobart could be a good choice for students looking for a cheaper city. It comfortably has the lowest accommodation costs of the university cities.
Hobart is home to a single university, the University of Tasmania (UTAS). UTAS caters to all of Tasmania's on-campus university students and is a fairly typical Australian university. It has 20,000 students, with just over a quarter from overseas.
---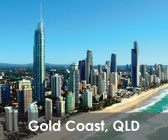 The Gold Coast is a dream city for university study if you can find a good course for you. The city is Australia's most popular tourist destination and an increasingly popular study destination. It has great weather and beaches, and plenty of entertainment.
The Gold Coast has the largest campus of Griffith University and is home to Bond University. It also has campuses of two of Australia's cheapest universities for international students – CQUuniversity and Southern Cross University.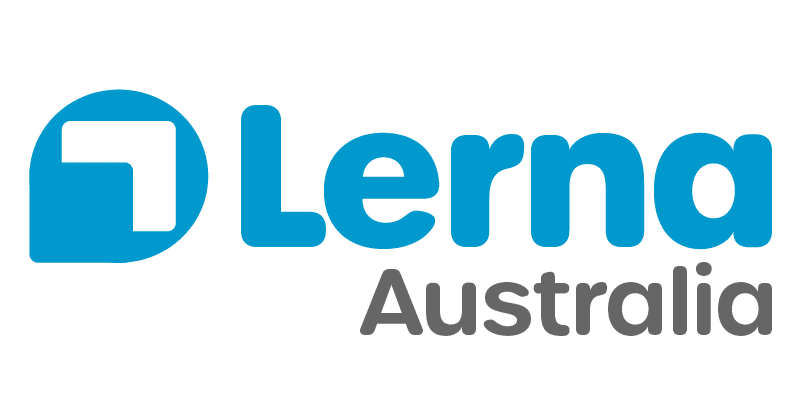 Employment rates are generally good across Australia's cities. You'll find job opportunities in every city.
Sydney and Melbourne are both major economic hubs and have vast job opportunities across many industries. These two cities are well known for having some of the largest job markets in Australia. They offer diverse employment prospects, from entry-level positions to executive roles.
Brisbane and Perth also have strong job markets and growing startup scenes. They offer great opportunities for those looking to start their own business.
Canberra, being the capital city has a strong public service and government sector. With a high proportion of well-educated residents, and many research and educational institutions, it can be a great place to start your career or build a professional network.
You can easily use job search sites to find out, by city, how many openings are available in your industry or occupational field. Remember that fewer vacancies in smaller cities can actually translate into better opportunities.
Which state is best in Australia?
You may be interested in what happens when you leave the city centre. Which state is best to live in? Each state has its own unique qualities. Here's a quick summary.
The region of northern NSW and southern QLD is one of the best places to live in Australia, and is known for a warm climate, beautiful beaches, and laid-back lifestyle. Areas like Tweed heads, Kingscliff and Byron bay in Northern New South Wales, and Gold Coast and Sunshine Coast in Queensland are popular. They offer a laid-back coastal lifestyle while still providing access to big city amenities.
Victoria is known for its diverse culture, excellent food and wine, and beautiful natural landscapes. Regional centres such as Geelong, Ballarat and Bendigo, offer a more affordable cost of living than Melbourne and still have plenty of services.
In New South Wales, Wollongong, Newcastle and the Central Coast offer a more relaxed lifestyle compared to Sydney and still have plenty of services and job opportunities.
Queensland is known for its tropical climate and beautiful beaches. It's a popular tourist destination and has a strong economy and job market. Outside Brisbane, towns like Gold Coast and Sunshine Coast offer a great balance of coastal living and city amenities.
South Australia has a strong economy, and is known for being a great place to raise a family. Adelaide Hills and Barossa valley offer great quality of life, with a more relaxed and peaceful lifestyle.
Western Australia has a strong resources industry and offers excellent job opportunities in regional areas. Places like Geraldton, Kalgoorlie and Karratha are known for mining and resources, but also offer a great lifestyle.
Tasmania is an island state that's known for its rugged beauty, cool climate, and relaxed lifestyle. It has a small population, around half a million people, which makes it a great option if you're looking for a more peaceful and quiet place to live.